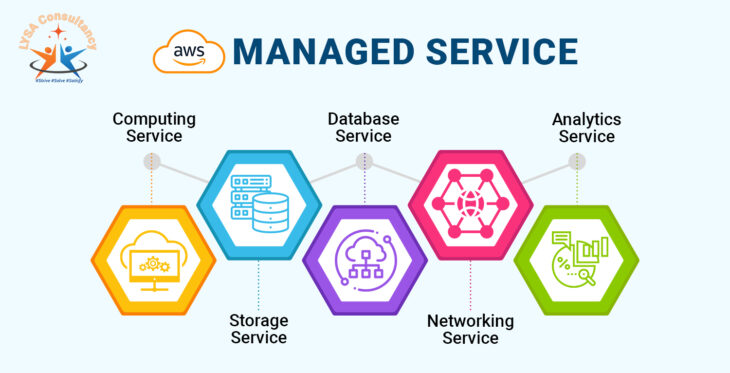 You've come to the right place if you've heard the buzz and want to learn more about Amazon Web Services (AWS) and how it could benefit your business. We'll take a closer look at what AWS is, its unparalleled services, and the innovative ways it can help your business succeed. The past few years have seen AWS escalating as a leader in the world of cloud computing – let's explore why!
AWS v/s AWS Managed Services
AWS is a cloud computing platform that provides businesses and organizations with various cloud-based services. It is one of the largest cloud providers in the world and offers a wide range of services, from storage and computing to databases and analytics. AWS has data centers all over the world, making it possible for businesses to store and access their data from anywhere.
AWS Managed Services is a suite of services designed to help businesses manage their AWS environment. This service allows businesses to focus on their core competencies while AWS manages their infrastructure. AWS Managed Services offers several benefits, including improved security, compliance, and cost optimization.
Services provided by AWS Cloud computing
AWS provides organizations with a wide range of services, including cloud computing, storage, networking, and security services. Some of the most popular services provided by AWS include:
Computing Services: Elastic Compute Cloud (EC2)
AWS offers various computing services, including Amazon Elastic Compute Cloud (EC2), a scalable cloud-based computing service that allows businesses to run applications and workloads on virtual machines. It simplifies web-scale cloud computing for developers, allowing them to rent virtual computers to run their own applications. EC2 offers users a convenient, cost-effective way to access the power of cloud computing.
Storage Services: Simple Storage Service (S3)
AWS offers various storage services, such as Amazon Simple Storage Service (S3), which is a scalable object storage service that allows businesses to store and retrieve any amount of data from anywhere. With S3, you can store and access any amount of data, from anywhere in the world, at any time – making it the perfect choice for businesses big and small. Take advantage of its industry-leading features today and unlock the full potential of your data.
Database Services: Amazon Relational Database Service (RDS)
AWS offers a variety of database services: Amazon Relational Database Service (RDS) is an innovative web service that simplifies the setup and operation of a relational database in the cloud. Say goodbye to tedious administrative tasks like hardware provisioning, database setup, patching, and backups. RDS provides cost-effective and scalable capacity, so you can rest easy knowing your database is ready to go!
Networking Services: Virtual Private Cloud (VPC)
AWS offers various networking services, and VPC offers you the opportunity to launch resources such as EC2 instances, RDS databases, and Elastic Load Balancers in a logically separated section of the AWS Cloud, ensuring higher availability and fault tolerance for your applications. With a VPC, you can define a custom IP address range, construct subnets and configure route tables and network gateways. You can also manage network access to and from your resources using security groups and network access control lists (ACLs). This allows you to create a secure and isolated environment to deploy your applications and services, granting you complete control over your virtual network.
Analytics Services: Potential of Redshift
AWS offers a comprehensive suite of analytics services, headlined by Amazon Redshift – a powerful data warehousing service that enables businesses to store and analyze vast quantities of data. With Amazon Redshift, businesses can unlock key insights and unlock the hidden potential within their data.
Why choose Lysa IT Consultancy?
Lysa Consultancy is a company that provides consulting services to organizations using AWS. The agencies help organizations to migrate their applications and data to the cloud, manage their infrastructure on AWS, and optimize their AWS costs. AWS Consulting agencies also provide training and support to organizations that are new to AWS.
At LYSA Consultancy, we are dedicated to helping businesses achieve new levels of success by leveraging the latest in the database, DevOps, and cloud solutions. Our mission is to always strive for excellence, solve problems with 100% quality, and ensure complete client satisfaction.
We take pride in our unwavering focus on expertise and outstanding service delivery, enabling us to successfully complete thousands of projects with remarkable results. As a global IT solution provider, we are committed to providing the tools and services that enable businesses to achieve their goals and reach new heights of success.
Join us on this incredible journey and experience the power of our tailor-made solutions. Let us help you solve your complex data challenges, improve your DevOps processes, and leverage the benefits of cloud solutions. Contact us today to learn more about our services and how we can help you achieve your business goals.
Final Word
AWS is a powerful cloud computing platform that offers a wide range of services to businesses of all sizes. With AWS Managed Services, businesses can benefit from improved security, compliance, and cost optimization. AWS provides a variety of services, including computing, storage, database, networking, and analytics services. AWS consulting agencies like LYSA IT Consultancy can help businesses migrate to AWS and provide ongoing support. With the help of AWS, businesses can reduce costs, increase agility, and improve their overall efficiency.
If you're interested in learning more about AWS and how it can benefit your business, contact us today. As an experienced AWS consulting agency, we can help you plan, deploy, and manage your AWS environment. Let us help you unlock the power of the cloud with AWS.