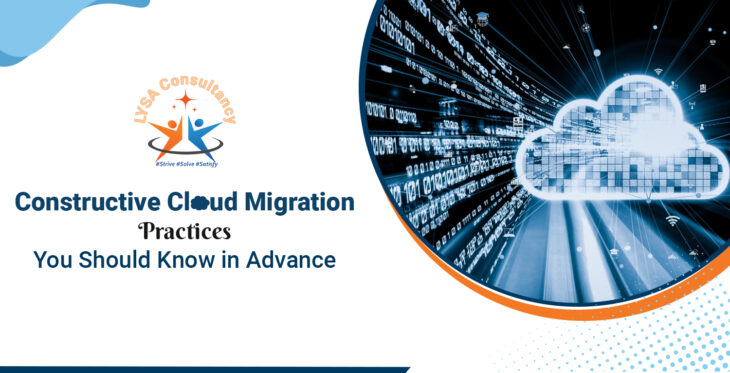 In today's rapidly evolving digital landscape, migrating to the cloud has become a crucial step for businesses seeking scalability, flexibility, and enhanced operational efficiency. In this blog, we will delve into constructive best practices that you should be aware of in advance when migrating to the cloud. We'll explore the key considerations and benefits, and discuss the significance of cloud migration consulting services in ensuring a seamless transition.
What is the Strategic Importance of Migration to the Cloud?
As businesses continue to evolve and adapt in the digital age, the importance of cloud migration cannot be overstated. The decision of migrating to the cloud brings with it a myriad of advantages that contribute to the success and efficiency of organizations. One crucial benefit is scalability, which enables businesses to easily adjust their cloud resources according to their needs. Whether it's expanding operations or handling sudden surges in user demand, the cloud provides the flexibility required to accommodate growth without the limitations of traditional infrastructure. Additionally, cloud migration often leads to substantial cost savings. By eliminating the need for physical servers and infrastructure maintenance, businesses can reduce operational expenses significantly. Furthermore, migrating to the cloud enhances security measures.
Read More
Overall, understanding the below 7 best practices of cloud migration brings essential for businesses aiming to stay competitive and agile in today's technology-driven landscape.
I. Comprehensive Assessment and Planning
Prior to embarking on the path of cloud migration, conducting a thorough evaluation of your current infrastructure, applications, and data is of utmost importance. This assessment helps identify potential challenges and risks associated with migration. By understanding the current state, you can develop a detailed migration plan that outlines the necessary steps, timelines, and resource requirements. A well-thought-out plan ensures a structured approach and minimizes disruptions during the migration process.
II. Prioritizing Applications and Workloads
Not all applications and workloads are created equal, and some are better suited for migration to the cloud than others. To prioritize effectively, consider factors such as complexity, dependencies, and business value. Identify critical applications that can benefit the most from cloud migration. By focusing on these applications, you can streamline the migration process and minimize potential complications.
III. Workload Optimization
Optimizing workloads before migrating them to the cloud (AWS Cloud Service or Google Cloud Service)is crucial for unlocking the full potential of cloud-native features and services. Refactoring or rearchitecting applications allows you to align them with the scalability and performance capabilities of the cloud environment. By optimizing workloads, you can leverage the cloud's elasticity and ensure seamless scalability to meet changing business needs.
IV. Ensuring Robust Data Security
Data security should be a top priority throughout the cloud migration process. Execute robust security measures to protect sensitive data. This includes encrypting data in transit and at rest, ensuring secure access controls, and adhering to industry-standard security practices. By adopting a proactive approach to security, you can mitigate potential risks and safeguard your data in the cloud.
V. Rigorous Testing and Validation
Thorough testing and validation are essential to ensure the functionality and performance of migrated applications in the cloud environment. Perform comprehensive testing, including performance, load, and compatibility testing, to identify and address any issues before going live. Rigorous testing helps detect and rectify potential bottlenecks, ensuring a seamless user experience and minimizing disruptions during the migration process.
VI. Training and Education
A successful cloud migration relies on the expertise of your IT teams and end-users. Provide adequate training and education to familiarize them with the new cloud environment. This includes training on cloud technologies, security protocols, and best practices for utilizing cloud services. By empowering your teams and users, you can maximize the benefits of the cloud and facilitate a smooth transition.
VII. Continuous Monitoring and Optimization
Migrating to the cloud is not a one-time event; it is an ongoing process. Implement robust monitoring and analytics mechanisms to continuously monitor the performance and cost of your cloud infrastructure. By closely monitoring key metrics, you can identify areas for optimization, improve resource allocation, and ensure cost-effectiveness. Regular optimization efforts will help you derive the maximum value from your cloud investment.
Conclusion
Seamless cloud migration requires a strategic and well-executed approach. By following the top seven best practices outlined in this blog, businesses can navigate the complexities of migrating to the cloud successfully. Comprehensive assessment and planning, prioritizing applications, workload optimization, robust data security, rigorous testing and validation, training and education, and continuous monitoring and optimization are key pillars for achieving a seamless transition to the cloud.
Take the next step toward a more agile, scalable, and cost-efficient future. Contact Lysa Consultancy today to discuss your cloud migration goals and let us guide you through the process with professionalism and expertise.
Seize this opportunity to unlock the true potential of the cloud. Trust cloud migration consulting services from Lysa Consultancy. Together, we can revolutionize your business operations and empower you to thrive in the digital era. Get in touch with us today and experience the transformative power of cloud migration with Lysa Consultancy.