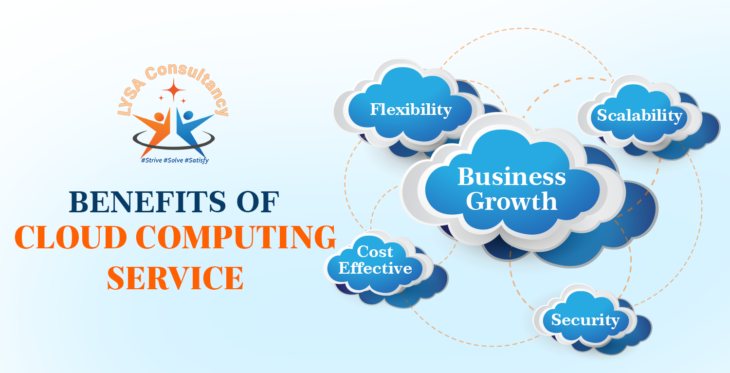 The Digital Era has revolutionized the way businesses operate, and cloud computing solutions are at the center of this revolution. By moving to the cloud, businesses can reap the benefits of unprecedented agility, scalability, and cost-effectiveness. In fact, the usage of cloud computing is expected to skyrocket in the coming years, with 83% of enterprise workloads projected to be in the cloud by 2023.
In this blog post, we will uncover why businesses are flocking to cloud computing services, the importance of cloud security, and why it's vital to implement cloud data security programs in your organization. Don't miss out on the opportunity to leverage the power of the google cloud services to ensure your business is up to the digital age!
The Benefits of Cloud Computing Services for Businesses in 2023
Cloud computing services offer a range of benefits to businesses, including improved flexibility, scalability, and cost-effectiveness. In 2023, businesses will be able to access powerful cloud-based tools and platforms that enable them to automate their operations, streamline their workflows, and improve their overall productivity. These tools will also allow businesses to better leverage big data analytics and machine learning algorithms, giving them unprecedented insights into their operations and customers.
AWS Cloud Security: A Crucial Component of Cloud Computing in 2023
As organizations continue to transition to the cloud, the demand for reliable cloud security solutions is only escalating. AWS cloud security stands out as a critical aspect of cloud computing in 2023.
From network firewalls and access controls to data encryption, AWS offers a wealth of advanced security features that guarantee your data and operations are shielded from potential external threats. With AWS service, you can rest assured knowing that your information is secure and protected.
The Importance of Security in Cloud Computing
Ensuring security in cloud computing is a crucial step that businesses cannot afford to overlook as they transition their operations to the cloud. Without implementing proper security protocols, businesses are exposed to the potential of data breaches, theft of intellectual property, and other disastrous outcomes that can have a huge financial impact.
To safeguard their data and operations, businesses should take the necessary steps to ensure their security measures are robust, including encrypting data, introducing access controls, and putting data backup and recovery plans in place.
At Lysa IT Consultancy, we understand that businesses need reliable and cost-effective cloud security solutions to stay competitive in this ever-changing world. With our specialized teams of experts, we will help you create and deploy customized It solutions that fit the most complex of data-related challenges. Our IT services team is passionate about taking businesses like yours to the next level.
Cloud Data Security Programs: Ensuring the Safety of Your Data
Cloud data security programs are an essential component of cloud computing in 2023. These programs provide businesses with the tools and resources they need to safeguard their data and protect it from unauthorized access, theft, and other threats. With cloud data security programs, businesses can implement advanced security features such as encryption, access controls, and data backup and recovery procedures, ensuring the safety and security of their data at all times.
Final Thoughts
Cloud computing is set to become the future of business operations in 2023 and beyond. With its myriad benefits, including improved flexibility, scalability, and cost-effectiveness, cloud computing is transforming the way businesses operate and compete in the digital landscape. However, to fully leverage the potential of the cloud, businesses must prioritize cloud security solutions and data security programs, ensuring the safety and protection of their data and operations. With the right tools and resources, businesses can unlock the full potential of the cloud and achieve success in the digital age.
As businesses increasingly move to the cloud in 2023, it is important for organizations to implement robust cloud security solutions and data security programs. LYSA IT CONSULTANCY offers a range of cloud computing services and solutions, including AWS cloud security and cloud data security programs, that can help your business leverage the full potential of the cloud while ensuring the security and protection of your data and operations. Contact us today to learn more about our services and how we can help your business succeed in the cloud.